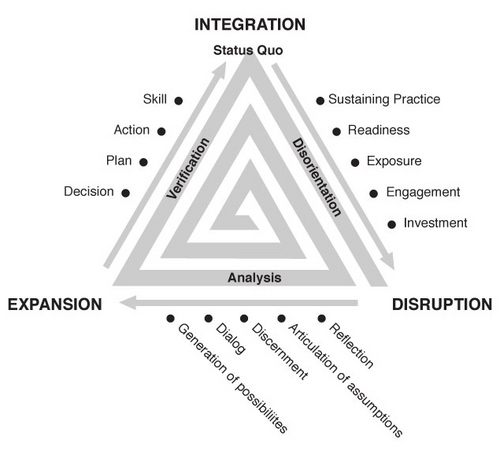 As part of a Creative Exploration (CE) on cMOOCs, Rhoda Mauer at Cornell has been posting comments and resources related to concepts of panic, trust and storytelling.  At the same time, Peter Taylor, who is also part of the CE, is talking about a possible new collaboration on transformative education. These conversations intersect with my attempts to understand the power of shifting perspective and building confidence and competence (self-efficacy) that may result from being in a new or unique learning environment.
A brief Google search on the terms "disorientation learning trust" got me to a piece on transformative learning.  So my exploration is turning to learning more about "transformative learning".
In a Journal of Environmental Education piece, D'Amato and Krasny (2011) write:
Transformative learning is often precipitated by a "disorienting dilemma," which is followed by critical self-re?ection, social interactions, planning for action, and building competence and self-con?dence in new roles and relationships as a result of taking action (Mezirow, 2000). Such learning could result in personal growth as well as in questioning and changing one's behaviors toward the environment (instrumental learning). (p.239)
Kucukaydin and Cranton (Adult EducationQuarterly, 2013) also reference Mezirow as four distinct types of transformative learning:
 developmental (Daloz, 1999)
emancipatory (Freire, 1972)
extrarational (Boyd,1989)
rational (Mezirow, 1991)
Keegan (Asian Social Science, 2011) also speaks to four processes in transformative learning (critical reflection or feedback,  reflective discourse or evaluation, and action related to learning and teaching quality).  that resonate with the 4 Rs  and Probe-Create-Change-Reflect modes that Peter Taylor talks about as well as the experience I had during the EDCMOOC offered Coursera by U of Edinburgh.
Let's see where this creative exploration path takes me.